5 Outfits To Serve Looks At Work!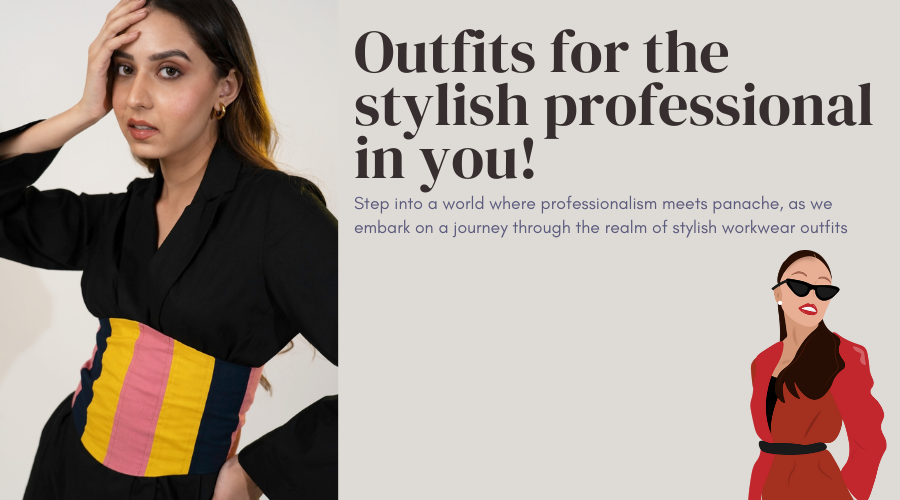 The summer get-away you were looking forward to just got cancelled – your leaves were not approved and that appraisal you deserved looks like a far-away dream!
Cry it out girl but at least cry in stylish clothes ;)
Okay, but honestly, even if your work is not that bad, we know that every morning your wardrobe looks like a battlefield as you're wondering what can you wear to work today?
We have the perfect options - dress to impress and elevate your work look with these outfits 
The Amara Co ord –
 Wish – a fun blazer set. Status – Granted!
A blazer set is a must have for any boss babe. The electric colour will have everyone's attention (especially your boss).
Get the look here: The Amara Set
Wear gold hoops with it and sneakers for a casual look or with high heels if you're heading into a big meeting. This blazer will do the job, no matter how high your expectations.
The Noir Blazer Dress –
This dress comes with a guarantee to make your work less boring.
Get the look here: The Noir Blazer Dress
It's the perfect LBD but with a twist, the corset belt adds some much needed pop of colour and is easily detachable if you wish to style the dress differently. Wear it with pointy heels and dainty earrings to complete the look. Oh wait, don't forget to carry your laptop bag with it! A good dress can only take you so far!
The Jane Blazer Set –
This blazer set is probably one of the most versatile pieces on our website. Wear it with or without the belt, style it with a white tee or a pink bralette, there is endless potential! The options are endless.
Get the look here: The Jane Blazer Set
Style it with big hoops and a smart watch, it doesn't matter – everyone's only going to focus on your outfit. Just be sure to share the link of this when all your colleagues ask you where you got it from ;)
The Matcha Co-ord –
We love the different colour of this co ord and the fabric is super light and comfy for your 9-5.
Get the look here: The Matcha Set
Go for high heels and wear your hair in a sleek ponytail to give you the perfect 'go-getter" vibe.
It will make you look stylish and leave everyone else craving a yummy Matcha Latte ;)
We hope you're ready to take on all of your office woes with these outfits. After all, who run the world? The Poppi Girls!
Shop from a wide range of blazers for women here:  - https://poppi.in/collections/tops